The Mary Butler Chapter NSDAR was organized in Laconia, New Hampshire, on July 10, 1918. There were twelve original members.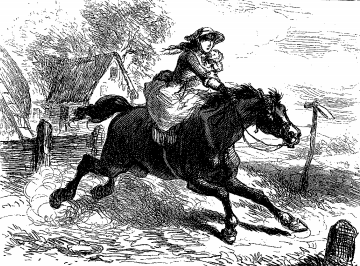 In the History of Merrimack and Belknap Counties, New Hampshire, by Duane Hamilton Hurd, the section on Gilmanton has the following:
"A few days after the battle of Lexington, twelve of the inhabitants of Gilmanton, Lieutenant Ebenezer Eastman at their head, volunteered, and marched forth to the rescue. This officer, in the absence of the captain, commanded a company at the battle of Bunker Hill, on the 17th of June.
Mary Butler was the young wife of Lieutenant Eastman. When he hastened to the war she was left alone with a young child. Report soon reached her of the battle of Bunker Hill, and that her husband was among the killed. She determined to know if it was but flying rumor or serious fact for her. There were no roads, no guides, but spotted trees; no carriage to convey her; but, mounting her horse, with her infant child on the saddle before her, she struck out for her father's house in Brentwood, a distance at least of forty miles. When she reached her father's house the news of the battle was confirmed, but no list of the killed or wounded. Leaving her infant child, she mounted again, and on reaching Charleston found her husband alive and well."
Read Benjamin F. Taylor's 1874 poem, Mary Butler's Ride, here.
The Mary Butler Chapter has marked several historic sites, including land where the Eastman cabin stood. In 1926, the chapter published "Old Meredith and Vicinity," and in 2004 compiled "Historic Sites" of the Lakes Region. The chapter gifted oil paintings of George and Martha Washington to the Gale Memorial Library in Laconia which are on display.
The chapter meets monthly and welcomes you to visit! Please email us for information regarding an upcoming meeting!