Since our founding in 1918, the chapter has marked several historical sites in the Lakes Region of New Hampshire.
First School House of Gilford Village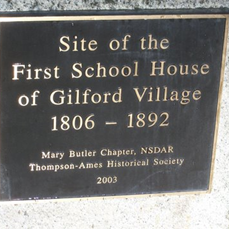 Built in 1806, Gilford Village's one room school housed more than sixty pupils and "was known as a difficult school to manage," according to the findings of Adair Mulligan as included in her book The Gunstock Parish, A History of Gilford, New Hampshire. Students attended in late summer, fall and winter so that they could work on the farms during planting and harvesting months. The school was rebuilt in 1854 to better accommodate the growing student population. In 1892, the original building was abandoned when a new school was opened on Potter Hill Road in the village, in back of what was then the John J. Morrill Store, now the Grange Museum Building.
In 2003, the Mary Butler Chapter, in conjunction with the Thompson-Ames Historical Society, marked the location with a bronze plaque.
---
Mary Butler Homesite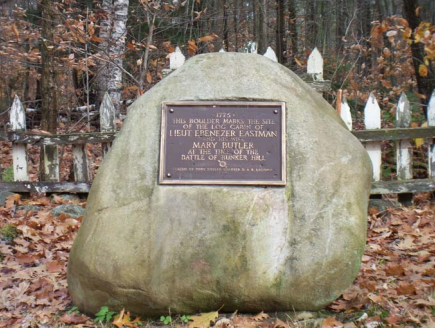 A memorial granite boulder and bronze plaque was placed on the site of the log cabin built by Lt. Ebenezer and Mary Butler Eastman. Located on Mary Butler's Lane on Eastman Farm, off Route 140 between Gilmanton and Belmont, the marker sits on a 10' by 18' tract of land acquired by the chapter in 1922.
The inscription reads, "1775 - This boulder marks the site of the log cabin of Lieutenant Ebenezer Eastman and his wife Mary Butler at the time of the Battle of Bunker Hill. Placed by Mary Butler Chapter DAR Laconia, 1922."
---
The Weirs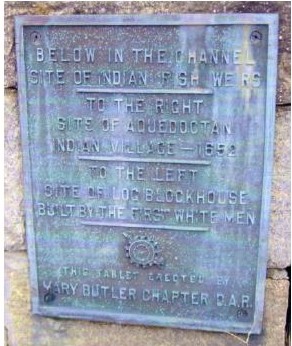 In 1935, the chapter marked the site of the village of Aquedoctan. One of the largest Algonquian villages in the northeast, Aquedoctan was a fishing village that covered the shore of what is now Lake Paugus. The native peoples constructed fishing weirs to collect the shad that came through the channel. These stone weirs were evident until the early 1950s.
The memorial bronze marker also honors the site of the old block house, built by the first white settlers in 1736. The fourteen-foot square fort was built by the proprietors of Gilmanton presumably for protection from the Native Americans, but it is unknown if it was ever used as such.
---
Liberty Pole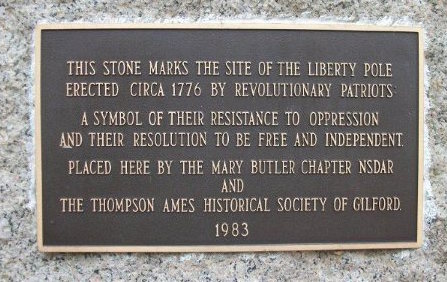 At the crest of Liberty Hill in Gilford is the site of the Liberty Pole, erected in 1776 by revolutionary patriots. In conjunction with the Thompson-Ames Historical Society, the chapter placed a stone and plaque in 1983 commemorating the location.